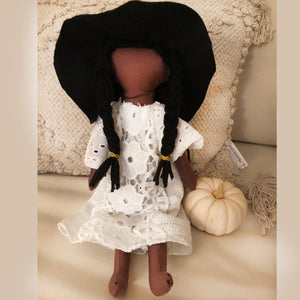 Witch Witch! You're a witch!
Yeah so? This is the Sunday Witch. She likes spending Sundays with her friends, listening to the tea being spilled and contributing to the bake sale. Her dislikes are book bans, Ms. Bentley's chocolate cake ( hers is clearly better) and calorie counting. She's hand made and one of a kind. Made of cotton poplin and lace, cotton dress with sequin mesh overlay and yarn hair. Please do not wash or had to small children. Not that she eats children (anymore) but they might pull off her arms. That would be bad. 17" long. 
All orders over $50 ship for free within the USA. All orders usually ship within 24 hours from the USA.